When?
The Regular Meetings of the Lodge are normally held on the second Friday of January and the fourth Friday of March, May(Installation) and October.
The Regular Meetings of the Chapter are normally held on the fourth Friday of February and June and the first Friday in September.
Where?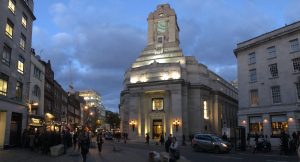 Prior to the meetings, the members meet in the Shakespeare's Head pub in Kingsway to discuss the days work and to catch-up in a relaxed atmosphere and then move to the impressive surroundings of Freemasons' Hall.
Regular meetings are held at Freemasons' Hall, Great Queen Street, London. CLICK HERE
What?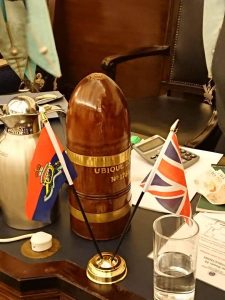 Our meetings are held in Lodge rooms or "temples". The format is similar to a Mess meeting where the business of the Lodge is discussed votes are taken, and new members are nominated and balloted for.  This activity is almost secondary to the main activities which are our ceremonies or rituals.  We enact rituals based loosely on the historical ceremonies of stonemasons' guilds. These are effectively short thought-provoking 'morality plays' that use allegory and symbolism associated with the stonemason's craft to illustrate moral and charitable lessons, and everyone has a part to play.  They also mark particular key points in our members Masonic journey.
After the meeting we hold a meal or Festive Board.  Here our members and guests can sit discuss and relax over a three course meal.  We have our own traditions including every so often a rousing rendition of The Screw Guns!  We hold this at the Prince of Wales pub in Dury Lane.
Visiting
We always love to have guests at our meetings, so extend an open invite to any brethren wishing to join us.  if you wish to spend an evening with Ubique please email our secretary at ubiquelodge@btinternet.com. We look forward to meeting you!
Our Other Meetings
To ensure that our ceremonies run smoothly and are at a standard befitting the Gunners we hold rehearsals at aLodge of Instruction, which is akin to a Training Wing.  These are relaxed affairs that give our members the chance to perfect and make mistakes in a friendly environment.  Being a military Lodge, errors rarely go unnoticed and are usually subject to a healthy dose of friendly banter!
The Ubique Lodge of Instruction meets at the Westwood Masonic Centre, Welling, Kent, on most Fridays during the months of September to May inclusive.
Lodge of Instruction Location CLICK HERE