There is a common misnomer that to become a Freemason you must receive a tap on the shoulder, this is not the case, there is no reason why you cannot ask.  It is encouraged and expected that society ask questions about us and what we do, and in return it is expected that Freemason's answer as honestly and candidly as possible.  This desire for knowledge is particularly expected of men with a desire to join.  Before a man enters into joining Freemasonry, he must be fully satisfied that Freemasonry is an organisation he really wants to join and that there are no unrealistic expectations.  He must also understand the financial and time commitments that come with enjoying Freemasonry.  If you know of any Masons already take time to speak to them, but if you do not know any Masons we at the Ubique Lodge will be happy to help you learn more and answer any questions, just get in touch and ask; we too were in your position once.
There are certain requirements that must be met before an application can be considered;
A belief in a supreme being
RHA or RA serving or retired, Regular or Reserve (For Ubique only)
Born a free man

Aged 21 years or over
Of good character
Why become a Freemason?
People have their own reasons why they enjoy Freemasonry. The following is a sample of some of the reasons given:
Achievement – progressing through the various offices in the Lodge to become Worshipful Master.
Brotherhood – making new friends and acquaintances from all walks of life, every background and age group.
Charity– being able to contribute to deserving causes, both Masonic and non-Masonic.
Education– learning from peers and mentors by practicing ritual and making short speeches.
Knowledge – finding out about the history and mysteries of Freemasonry.
Self improvement – making a contribution to your family and society
If you are able to answer these questions honestly and correctly, you maybe eligible to become a Mason and submit an application form.  Following an application an interview will take place before the Lodge Committee.
Application and Interview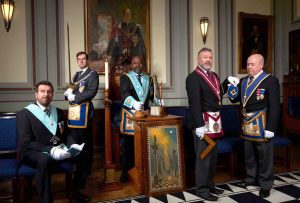 If you have decided that Freemasonry suits you and you wish to get involved you will make an application to join, be formally proposed and seconded and an interview will take place with the Lodge committee.  The interview is not something you can prepare for, it is a two way process.  It allows Ubique Lodge to confirm that you would be right for Freemasonry and that you understand the commitment required, and a chance for you to ask questions and express why you want to be a part of Freemasonry; there is no right or wrong answer to this – everyone is different.
The Ballot and Initiation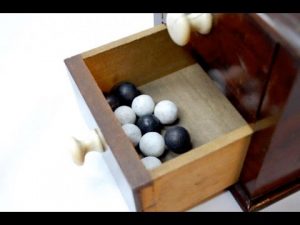 If you have made your mind up and still want to join and you receive a recommendation following the interview,  there will be a ballot among members in the Lodge; following this you maybe embarking on your first step in Freemasonry – your initiation.
How much does it cost?
When you are initiated you will be asked for some money by our Treasurer. The amount will be the grand sum of £240.  This sounds like a large amount of money, but this is the last time you will have pay such a large amount!  The break down of this is as follows:
£35 – This is the cost of your meal at the Festive Board.
£120 – Your annual subscription.
£85 – Your initiation fee.
Once a year you will be asked for the £120 subscription, which again sounds like a very large amount to pay in January in one go, and you would be correct!  Like most organisations this can be paid over the year at £10 per month.
The dining fee of £35 is owed at every meeting, but only if you are dining.
These fees are liable to change, but they will be discussed and voted upon before they do.
So how do I apply?
Contact the our secretary to find out about the next steps.
To join Chapter is to complete the journey from Initiation to Exaltation after being Raised to the 3rd Degree. Please contact the Lodge Secretary for further details.