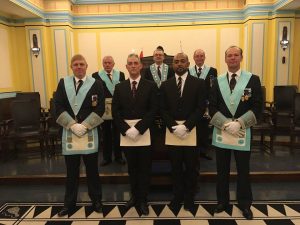 On Friday 26 October 2018,  Ubique Lodge Initiated two wonderful candidates and Passed another.  Both Initiates were formally of the Chestnut Troop, 1 RHA , and our new Fellow Craft a serving member of 5th Regiment RA, attached to the HAC. We also had the great pleasure to propose 11 new Initiates and four joining members.  As always, we were privileged to host a great number of guests, one of which from Australia!  At the end of the evening four of the guests expressed a desire to become joining members and we received yet another application from a new Initiate.  Following the meeting we recieved the following from one of our guests, an experienced Freemason of a number of years:
"Thanks for inviting me on Friday. It was certainly one of the best meetings and festive boards I have ever attended and without question one of the most friendly and fraternal.  They (Ubique) have a great thing there, and it is a privileged to witness it. May right and glory lead them forward!"
Ubique is also moving its dining venue to the Union Jack Club,which will provide us with a wonderful military venue to dine. The Lodge is going from strength to strength, and we are in for a busy few years!
Our second meeting will be on 11 January 2019, where we will be Initiating another two new members into the craft. These members are from Kings Troop RHA, now permanent staff at the HAC, and formerly 7 RHA.  We will also be Raising two members, taking them to the Third Degree, these individuals are formerly the Chestnut Troop, 1 RHA  and 5th Regiment RA, attached to the HAC.  Currently there will be five proposals – this list is likely to get larger!
If you wish to know more or want to join or visit please email ubiquelodge1789@gmail.com