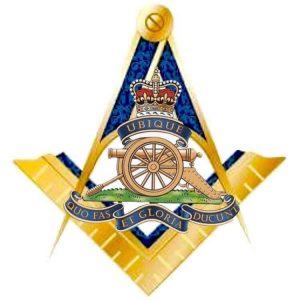 A MESSAGE OF WELCOME FROM THE WORSHIPFUL MASTER
---
A MESSAGE OF WELCOME FROM THE WORSHIPFUL MASTER
Ubique Lodge and Chapter's aim is to represent the Royal Regiment of Artillery within Freemasonry, and in turn, Freemasonry within the Royal Regiment of Artillery.
Our Masonic Values of Brotherly love, Relief and Truth, reflect those things we all hold dear from our service with the Gunners.
Ubique Lodge and Chapter is a bright, friendly, social organisation.  We strive to reflect the atmosphere of Mess life, but without the politics.
Where possible, we try to raise money for a broad spectrum of good causes, from the RAA, Tickets for Troops to Kidney's for Life.  Indeed, we had two members competing in the 2018 London Marathon and another taking on the challenge of an IronMan Triathlon later in the year.
Whilst we like to work hard, we also like to play hard.  In addition to our four regular meetings, we hold a Lodge of Improvement in Welling to practice our ceremonies, hold regular meet and greet events for people wanting to know more and potentially join in a relaxed atmosphere over a pint.
We keep close ties with the Royal Artillery Association with Lodge representation at Gunner Sunday, The RA Memorial on Remembrance Sunday, and St Barbara's Day.
November 2018 commemorates the Centenary of the Armistice at the 11th hour, of the 11th day of the 11th month of 1918.  To commemorate this we hope to lay a wreath at the RA Memorial, Hyde Park and in 2019 visit the Western Front Battlefields to pay tribute to the 12 Brethren killed during the Great War.
As we move into 2019, we hope to hold a Summer Ball.  This will be a great opportunity for all brethren, their family and friends to let their hair down after what is expected to be yet another busy year and raise money for charity!
I hope you enjoy today, and of course feel inspired to join.
You are most welcome.
I hope you enjoy looking through the site, and of course feel inspired to join.
You are most welcome.
For more information please email our Secretary on ubiquelodge@btinternet.com
#GunnerFreemasons
---
Worshipful Master